DUMFRIES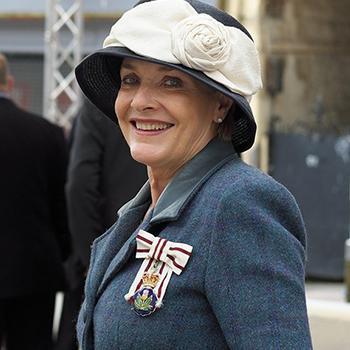 Fiona Armstrong, Lord-Lieutenant of Dumfries
Lord-Lieutenant of Dumfries since 2016 Fiona Armstrong is a broadcaster and writer. Fiona was a newscaster with ITN and BBC News. She's worked on features programmes with ITV, Sky TV, and NBC, subjects ranging from fishing to business, clan histories to antiques. She currently works with ITV Border. Fiona has written fishing books and pens magazine columns about Scottish family life. She has a doctorate from the University of Strathclyde and an honorary doctorate from Glasgow University. A past President of the Royal Highland Show, rural life is very much her thing. As an Armstrong she is at home in the Borderlands. As Lady MacGregor of MacGregor, and married to the chief of Clan Gregor, she also has an affinity with the Highlands.
---
Hardip Singh Atwal BEM
Deputy Lieutenant
Annan businessman Hardip Singh Atwal, BEM, runs a grocery store and an award-winning post office. A wedding banquet manager, in his spare time he works as a special police constable. A former Annan Academy pupil, Hardip has been widely recognised for his work as a community champion: inaugurating a multi-cultural ball and raising money for local charities. He was awarded his MBE in 2022. He is married to Harjinder and has two children.
---
Gordon Dickie
Vice Lord-Lieutenant
Gordon spent four years in the Army, serving in places like Germany and Northern Ireland. He worked on farms in the UK, and as far afield as Tierra Del Fuego in Argentina, to gain agricultural experience. In 1979 he came to Moniaive, and bought a small sheep farm.
Gordon loves the Dumfriesshire hills, and all things rural, especially walking, tree planting and dry-stone walling. He is chairman of the Army Cadet League, West Lowland, a charity which supports our local Cadet Battalion. Being a cadet gives confidence and life experience to young people who might not otherwise have the chance. Gordon is a director of two family companies, and is married to Charlotte who works in the art world. They have three daughters and five grandchildren.
---
Merlin Dernie
Deputy Lieutenant
Merlin was born and brought up in Dumfriesshire, and originally trained as a nurse at Great Ormond Street Hospital for Sick Children in London and at the Royal Berkshire Hospital in Reading.
On her return to Dumfriesshire, she married her husband, Peter, and since 1984 they have been farming near Moffat. Merlin was District Commissioner of the Dumfriesshire Hunt Branch of the Pony Club for 18 years. She has worked with Sports Driving Unlimited, a charity in Boreland that aims to give those with physical and learning difficulties a chance to experience the joys of carriage driving. She is also co-organiser of the Dumfries Charity Christmas Fair which raises funds for local charities. Merlin became a Deputy Lieutenant in 2015. She has three children and three grandchildren.
---
Lady Eileen Duncan
Deputy Lieutenant
Born near Beattock, Lady Eileen has lived in Dumfriesshire all her life. She is married to Andrew, the son of Sir Arthur Duncan, a former Lord-Lieutenant.
They farm north of Dumfries, but community work also keeps her busy. She was involved with the Red Cross for over 40 years and has served on the local Action Medical Research committee for more than 30 years. She has three sons, two of whom live locally and have both been Pursuivants, as was Lady Elieen's father. The middle son lives in Singapore where he teaches in an International School. Lady Eileen has seven grandchildren, and her interests include golf, tennis, horse racing, fishing, and bridge. She became a DL in 2005.
---
Rory Gillies
Deputy Lieutenant
Rory was born and brought up in Moffat. For 32 years he worked as a General Practitioner in the town, running the local surgery, along with his wife, Shona.
Through his work with the NHS Rory has been able to meet a wide section of the community. He says his role with the Lieutenancy of Dumfries gives him the chance to meet many more in and around Moffat. Since retiring from health care work he has been able to concentrate more on his interests which include local history and restoring furniture - with varying success, he says. He and Shona have three daughters and every day he says he is grateful to be able to live in such a wonderful part of the world.
---
Alison Hall BEM
Deputy Lieutenant
Alison lives in Dumfries and has had a 38-year career as a registered nurse with NHS D&G. During that time, she got to know people in all parts of the region and was especially busy during the Covid vaccination programme when she returned to work to help out.
Fifteen years ago, Alison set up the baby charity D&G Sands. When she badly needed support following her baby son's death in 1996, she received help from the Glasgow Sands group. As there was no help available locally, she was determined to establish a branch of the charity in our region. D&G Sands is now a well-established group, working with hospitals and other health groups, and supporting bereaved families in Dumfries and Galloway. Alison became a Deputy Lieutenant in 2017.
---
John Hammond MBE
Deputy Lieutenant
Resident in Eskdale for more than 40 years, John is a businessman. Up until 1994 he was the founder and owner of Border Fine Arts, the ceramic figurine manufacturer. He was also the owner of Dartington Crystal and Caithness Glass and a main board director of BSW Sawmills. John is now the Chairman of Gretna Green Ltd, an international wedding business that supports local tourism and gives work to hundreds of people locally.
John is Chairman of the Langholm Day Care Centre for Older People, the Langholm Community Centre, and the Eskdale and Liddesdale Advertiser newspaper. He has two children and lives in Canonbie.
---
John Henderson
Deputy Lieutenant
John was born and brought up in Dumfries, and completed his education at the University of Edinburgh, graduating with a degree in law. He practiced law as a solicitor in Dumfries until my retirement a few years ago. John is vice chair of the Dumfries and Galloway Housing Partnership, and also chairs the local Valuation Appeal Committee. As he says, housing is key to healthy and happy communities.
John is a member of Dumfries Rotary, a group now marking one hundred years. Over that time, they have tried to lift communities with projects ranging from art and education, to picking litter. John is married with two children and two grandchildren. His interests include hill walking, sailing, skiing, and playing bridge and golf.
---
Lord David Patrick Wentworth Hope Johnstone
Deputy Lieutenant
Lord Johnstone is a businessman who runs the family estate of Raehills near Lockerbie. David is involved in all matters to do with the countryside and is a former Chairman of Scottish Land & Estates (SLE), a group which represents landowners and rural businesses across Scotland. David is also a board member of NatureScot and this ties into one of his interests which is the environment. He also likes to play golf.
David has four children and lives at Raehills with Sarah.
---
Sarah Landale
Deputy Lieutenant
Sarah and her husband, Peter, live at Dalswinton, north of Dumfries where they run a farm and estate. Over the years Sarah has been involved in several charities, among them the Royal Blind School in Edinburgh.
For her, gardening is a passion, and Sarah is the local organiser for Scotland's Gardens Scheme where people open their gardens to the public to raise money for charity. Sarah is also vice-chair of this charitable group.
Sarah has three children and has been a Deputy Lieutenant for nine years.
---
Andrea Thompson
Deputy Lieutenant
Andrea became a Deputy Lieutenant for Dumfriesshire in November 2020. The award-winning editor of the multi award-winning Dumfries & Galloway Life magazine, she has been a journalist for more than 30 years. She is also a presenter with the Dumfries-based, volunteer-run community radio station, Alive 107.3.
A member of the board of Dumfries & Galloway Arts Festival, Andrea is an active member of The Theatre Royal Dumfries Guild of Players (at Scotland's oldest working theatre), where she works as a performer and in PR. She has been a Director of Dumfries & Galloway Chamber of Commerce, and an advisor with Young Enterprise Scotland. One of her proudest moments was taking part in Dumfries's Guid Nychburris.
---
Percy Weatherall
Deputy Lieutenant
Percy is a businessman. From 1976 to 2006 he lived in the far east, working for the old Scottish trading house of Jardine, Matheson & Co., Ltd which is based in Hong Kong.
In 2006 he came back to live in the family home, Cowhill, on the river Nith just north of Dumfries. For him, dairy farming is a great interest as is planting trees. In his spare time Percy enjoys field sports and collects books and clocks. He is Chairman of the wine merchants Corney and Barrow, and also of the Nith District Salmon Fishery Board. He is married to Clara, and they have four children.
---