STEWARTRY OF KIRKCUDBRIGHT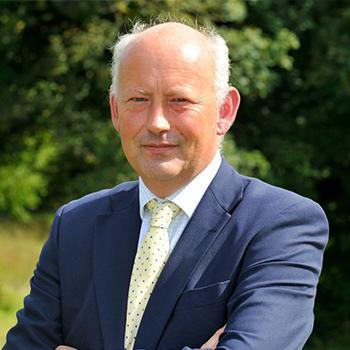 Hon Matthew Murray Kennedy St Clair, Lord-Lieutenant for The Stewartry of Kirkcudbright
The Lord Sinclair
Appointed by The Queen to be Her Majesty's Lord-Lieutenant for the Stewartry of Kirkcudbright on 29th July 2021.
The Lord-Lieutenant represents The King in the Stewartry of Kirkcudbright and his prime duty is to uphold the dignity of the crown. The Lord-Lieutenant's role is non-political.
The Lord Sinclair is a property consultant who has previously served as a Deputy Lieutenant. He has chaired the South West branch of Scottish Land and Estates, and the Game & Wildlife Conservation Trust auction for Scotland. A trustee for various family entities, he has recently assumed the role as Chairman of Governors of Cargilfield School in Edinburgh. He is also a member of the Royal Company of Archers.
Lord Sinclair manages a farming business in the Glenkens, north of Castle Douglas, where he lives with his wife and two sons.
---
Chris Walker
Deputy Lieutenant
Chris has lived and worked in the region since 1988. Originating from Skipton, North Yorkshire, he went to school at Sedbergh, Cumbria before studying Hospitality Management at Blackpool/Fylde College. Married to Sue, they are both hoteliers to trade having owned and operated The Creebridge House Hotel, Newton Stewart, The Masonic Arms, Gatehouse-of-Fleet and currently The Selkirk Arms Hotel, Kirkcudbright. They live in Gatehouse-of-Fleet and have a daughter.
Chris is a board member on The Dumfries and Galloway Chamber of Trade, The South of Scotland Destination Alliance, The Dark Sky Planetarium, currently chairs Visit South-West Scotland and is a trustee of The Galloway National Park Association.
A keen cyclist, Chris rode from Kirkcudbright to John O'Groats to raise funds for The British Heart Foundation following a successful Cardio Ablation in 2018.
---
Mark Jardine MBE
Deputy Lieutenant
Mark was born and brought up in Dumfries. After completing his BA at Strathclyde University, he joined the family business, and focussed on providing a crematorium for the region, - while bringing up 3 children. Following 25 years searching for the perfect place, he designed and helped build Roucan Loch which opened in March 2005.
Mark then set up the People's Project to give something back to the community and gifted Robert Burns' Rock to commemorate the Queen's Diamond Jubilee, which was unveiled by HRH The Princess Royal.
Happily married to Ruth, Mark was humbled to be awarded the MBE in the New Year's Honours 2020 for the creation of Roucan Loch and services to the people of Dumfries & Galloway with the People's Project.
---
Richard Agnew
Deputy Lieutenant
Richard was appointed Deputy Lieutenant in 2016.